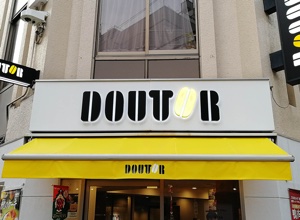 Creditcard
Not accepted
Transportation E-Money
Exception :Not accepted at some shops.

(Suica / PASMO)

official website(Japanese only)
https://www.doutor.co.jp/
Doutor Coffee is a Japanese coffee chain. The chain locates stores around Japan except Shimane-prefecture. Some calls this Doto.
The shops serve drink, hot dogs, and Milano sandwich.
A S-sized cup of coffee costs 220 yen. Iced coffee mocha, a popular drink, sets 330 yen (S size). Coffee mocha is made of espresso, chocolate, and hot milk.
German Hot Dog costs 270 yen. This is orthodox hot dog, bread, sausage with mustard.
Milano Sand B, 480 yen, is popular among young ladies. It is made of shrimp and avocado.
For sweets, Mile Crepe (milk crepe) is awesome. This costs 360 yen.