McDonald's Payment Methods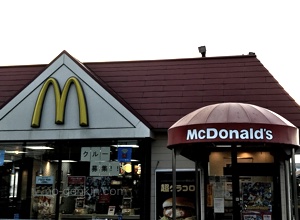 Creditcard
Accepted

(Visa / Mastercard / JCB / American Express / Diners Club)

Contactless payment
Accepted

(Visa / Mastercard / JCB / American Express)

Transportation E-Money
Accepted
Official Website(English)
https://www.mcdonalds.co.jp/en/menu/
McDonald's is a hamburger fast food chain, headquartered in the US.
In Japan, McDonald's offers breakfast menu until 10:30 (depending on the shop). In case of 24 hours-opened shops, breakfast serves 05:00 to 10:30. Japanese people call the morning Asa Mac, meaning breakfast McDonald's.
At McDonald's, smoking is prohibited.
Sausage Egg Mac Muffin is one of the popular morning menus. This costs
450 yen with drink and hash browns. Most of the menus are under 500 yen.
On the regular menu, Teriyaki Hamburger is popular among Japanese customers. Teriyaki is a glaze of soy sauce, mirin (sweet cooking rice wine), and sugar.This costs 590 yen with drink and french fry.
Finally, 100 yen Mac is awesome. As you already know, you can have a hamburger, coffee at 100 yen (one coin). Chicken Crisp capture Japanese customers. If you order Chicken Crisp and a cup of coffee, then all you need to pay is just 200 yen.