Yoshinoya Payment Methods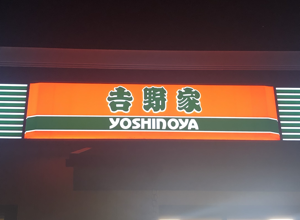 Yoshinoya is a Gyu-don fast food chain. Gyu-don is a beef-on-rice bowl, familiar food in Japan.
Gyu-don is cheap and costs 426 yen. You can have it at in-store or take out. The shops open 24 hours 365 days, even Christmas and New Year's Holidays. If you are hungry in midnight, it is not going to be a problem.
Usually, people tell stuffs the size of the bowl when you order Gyu-don. Nami is an ordinal size. Oomori is a large size than Nami. Finally, Tokumori is the largest size.
There are some Japanese people who order Gyu-don and TSUYUDAKU, meaning extra juice. Also, you can have pickled ginger as much as you want.
Those who like pickled ginger put it on Gyu-don until you cannot see beaf.